It is not often a court strongly discourages litigation, but the family courts in Australia are far from typical courts.
The disputes are emotionally complex, protracted, and parents or children may be at grave risk. There is much more to be lost than money, although the legal costs may be crippling.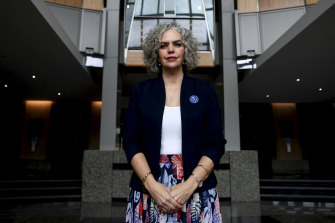 The Family Court of Australia and the Federal Circuit Court – the latter, counterintuitively, hears about 90 per cent of family law cases – are working on a shake-up of the system to move families out of clogged courts while supporting those at risk.
Twin initiatives are in train: a pilot program dubbed the Lighthouse Project using technology to assess and triage cases, and a push to resolve matters via alternative dispute resolution (ADR).
Seasoned mediator and family law specialist Anne-Marie Rice, a newly appointed senior court registrar and executive director based in Brisbane, is spearheading the courts' national ADR focus.
She is joined by new senior registrars in Sydney, Melbourne and Adelaide with ADR expertise.
Ms Rice said the ADR push marks a "profound shift in the way family law generally is approached, and because the courts are doing it, it's a genuine top-down leadership approach".
"There is a real emphasis on exiting the system – not just from litigation fatigue, but because the courts are offering opportunities for parties who can come to agreement to find that agreement," she said. The courts offered trained mediators "at essentially no cost" in parenting matters.
The majority of family law cases settle out of court, with 17 per cent ultimately determined by a judge. But cases may involve significant risk, and well over half raise allegations of family violence.
The courts were "acutely aware of the way family violence is experienced and plays out", and there was "no suggestion that everything is going to flow into a mediation process and create risk", Ms Rice said.
But when it was safe to resolve disputes outside court, the benefits to children in particular were "immeasurable", she said.
Paired with the ADR focus is the Lighthouse Project, including an online tool to screen and triage cases to help direct families to health and other support services, such as police and child welfare authorities co-located in court.
Lisa O'Neill, the courts' practice and procedure registrar, has been working for 18 months on the project, to be piloted in parenting matters in Parramatta, Brisbane and Adelaide later this year.
A secure online questionnaire screens for a variety of risks, including family violence, child abuse, self-harm and substance abuse. The questions may also be answered offline.
"All family courts across the world are seeing the same thing: high rates of family violence and families with complex needs, but there wasn't any definitive way of [screening risk]," Ms O'Neill said.
"This is the first big-scale attempt to do that."
The program adapts the Family Law DOORS (Detection of Overall Risk Screen) tool created by La Trobe University's Professor Jennifer McIntosh and piloted by Relationships Australia South Australia.
The results, kept confidential from the judge and registrar, will help case managers and family counsellors triage cases into three categories including high-risk cases for a specialist list. The tool will also help identify matters appropriate for ADR.
Experienced family lawyer and mediator Kathryn Heuer, a newly appointed senior registrar, will oversee the Lighthouse Project pilot in Adelaide and said the program would allow the court to "front-load resources to the families that need it".
"We have now some real legs on a system that is going to help families," she said.